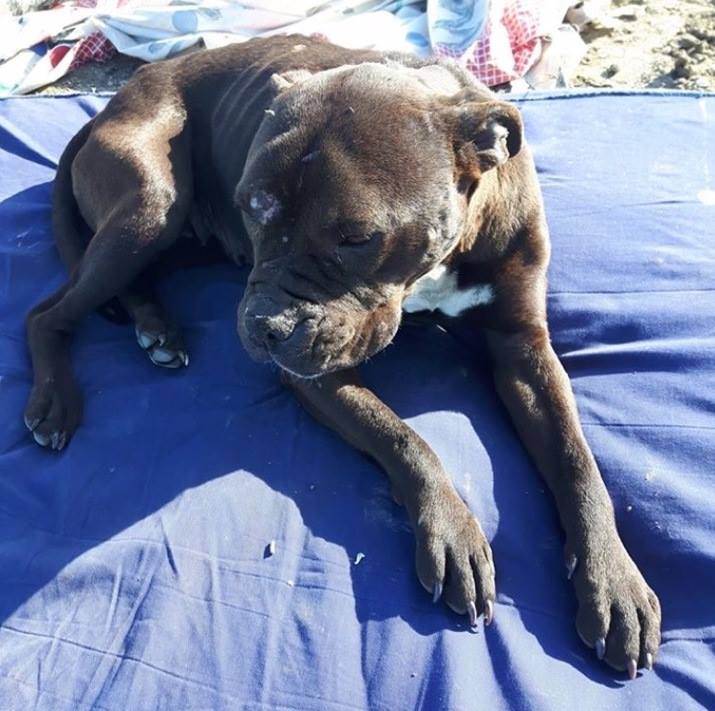 Hi my name is Score. Not because I'm chocolate brown like a Score bar but because I've finally scored a big win in a life that's been really hard.
My foster mom told me that half of the rescue people in Alberta were FaceBooking back and forth when I was found, trying to get me to safety. Truly I was ready to give up on life because I didn't know that kind people existed. I thank them all so much for working together to get me a place with SCARS.
My body is beyond emaciated – SO thin and hungry!! Scrounging for food through a long winter took its toll. My face is covered in "war wounds". Proof that I had to fight for resources like food and shelter.
Even though I'm only about 2 years old, I have raised a few puppies. Thankfully those days are over and I'll be spayed once I'm at a healthy weight.
At my vet check, the doctors found that I have a stage 5 heart murmur and a slightly enlarged heart. Now I'm on heart medication and they will do monthly checks to monitor me but say that I shouldn't be overly concerned. Many dogs, cats and humans have heart murmurs and live normal lives. I SO want to have a normal life with all of the "luxuries" that I've missed so far.